June, Cindy Knapman/UH: The U.S. Supreme Court ruled in April that the federal Clean Water Act, which regulates the discharge of pollutants into the nation's surface waters, including lakes, rivers, streams, wetlands and coastal areas, must also consider pollutant inputs to those waters by groundwater. This ruling was based on scientific findings from researchers at the University of Hawaiʻi at Mānoa School of Ocean and Earth Science and Technology (SOEST).
Over the last decade, Maui coral reefs have experienced a decline in health and overgrowth by invasive algae. Concerns arose that submarine groundwater discharge was carrying nutrients from wastewater infrastructure to nearby coral reefs, contributing to this decline. However, the quantity and locations of submarine groundwater discharge along Maui's coasts were poorly known. It was also unclear whether the groundwater carried high concentrations of nutrient or other pollution.
SOEST researchers from the Department of Earth Sciences were awarded grants from the U.S. Environmental Protection Agency and U.S. Army Engineer Research and Development Center to investigate the hydrological connections between deep injected effluent from a municipal wastewater treatment plant on Maui and nearby coastal waters.
The researchers applied novel techniques including using aircraft to collect thermal infrared imagery to map oceanic inputs and the extent of effluent discharge, deployed scuba seafloor mapping, analyzed groundwater and algae samples to look for isotopic signatures unique to wastewater, used radioisotopes to help establish flow rates, and deployed tracer dyes to track rates and paths of the injected wastewater effluent to Maui's coastal waters. The tracer dye test provided unequivocal evidence that the injected wastewater travels through groundwater to the coastal ocean.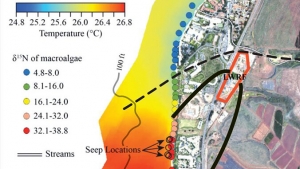 "This was a very impactful scientific study with regard to protecting the environment, and with far-reaching socio-economic and sustainability implications for the State of Hawaiʻi and the nation as a whole. Our high-caliber UH team was glad that we could make it happen," said Craig Glenn, lead author of the study and professor of Earth Sciences at SOEST.
The research team conclusively demonstrated that millions of gallons per day of deeply injected treated sewage effluent from the West Maui wastewater reclamation facility are being added to Maui's adjacent ocean waters.
for the rest of the article see here